Located on W. Kerr Scott Lake, in Wilkesboro, North Carolina, at the foothills of the Blue Ridge Mountains, Skyline Marina is your destination for beautiful views, great food, boating, fishing & water sports. Whatever your needs we are here to help you enjoy a great day on the lake. Here are just some of the services we offer.
Slips & Storage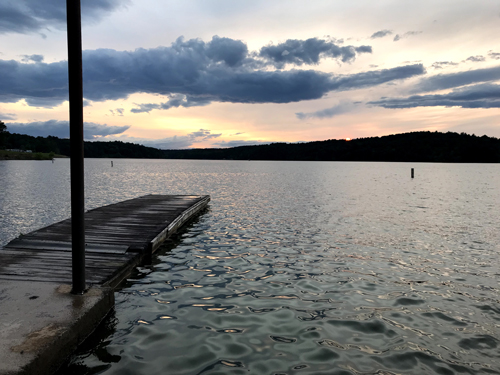 We have several options available for storing your boat seasonally or year round. Contact us at 336-931-3783 for more information and current pricing. Our wet slips are rented annually and generally at full occupancy. If you are interested in adding yourself to our slip waiting list please select the following link.
Covered Slips – Our covered slips offer in-the-water storage for pontoons, fish and ski boats and jet skis. Our covered slips will handle a maximum beam of 102″ and are 22′ in length.
Uncovered Slips – We have several arrangements for uncovered slips that can meet a variety of needs such as longer or deeper draft boats. While not fully handicap accessible due to the water level variations, we do have some uncovered slips that are easier to access via wheel chair.
Trailered Storage – Trailered storage offers a convienent and cost effective solution for boat storage. This option works great for campers or anyone that does not want the hassle of transporting their boat home after each trip.
Boat Rentals, Supplies & Fuel Dock
Whether you're looking for a fun day with family or a relaxing weekend on the water Skyline Marina has you covered with our pontoon rentals. For reservations and scheduling give us a call at 336-921-3783.
---
Need fuel? We also offer a drive up gas pump on the water with Premium Non-Ethanol fuel along with basic supplies you may need for your day at the lake.